MSc in International Management
Home ›
MSc ›
MSc in International Management
Programme Description
Why this course?
The MSc in International Management will help you to develop the knowledge and skills required by international managers and leaders to operate globally.
The course provides you with a broad knowledge and understanding of the practices and processes of international management.
You'll develop your understanding of the national and global contexts in which international managers operate.
You'll also gain an appreciation of how those contexts have an impact on managerial expectations and preferences in different cultural environments.
The programme is practical in its orientation with an emphasis on the skills of working, managing and leading in various organisational settings.
You'll study
Semester 1
You'll begin with an introduction to the Professional Management Practice programme. Running throughout the first two semesters, this class offers a combination of workshops and learning exercises. You'll have the opportunity to identify and develop the soft skills needed as a future international manager or leader.
You'll also attend an Integrated Skills Workshop which focuses on your personal approach to learning and managing yourself.
Core classes
Managing Across Cultures
Managing People in Organisations
Semester 2
Core classes
Marketing Management
Global Business Environment
Finance and Financial Management
You'll also take part in group exercises (eg arranging a professional, cultural or careers-focused event) to address a managerial or leadership development need to be identified during the outward bound activity.
Elective classes
You'll choose two elective classes from a shared pool of international and general management topics available on programmes offered by Strathclyde Business School. Elective modules vary from year to year, but may include:
Brand Management and Strategy
Foundations of Risk
New Venture Creation
Programme & Project Management
Games of Strategy
Leadership
Strategic Financial Management
Management of International Relationships
Change Agency
Developing Skills for Effective Management Consulting
Improving Management Decision Making
Exploring Resourceful Strategy Practice
Social Media: Strategy & Management
Managing in Europe (taught at Toulouse Business School, France)
Semester 3
Core classes
Business Strategy
International Entrepreneurship
Consultancy in Practice
You're required to complete a practically-oriented project. This gives you an opportunity to explore, at length, some aspects of theory or methods, or knowledge or skills introduced on the taught element of the programme. The project is supported by a class in project methodology.
Study abroad
This course includes a number of elective classes for you to choose from. If you're interested in studying abroad, the Managing in Europe elective class provides the opportunity to do this with classes taught at Toulouse Business School, France.
Major projects
You're required to complete a project in the final semester of the course. You can arrange to do this in conjunction with an organisation.
Facilities
Strathclyde Business School is one of the largest institutions of its kind in Europe. It has around 200 academic staff and more than 3,000 full-time students.
The departments and specialist units work together to provide a dynamic, fully-rounded and varied programme of specialist and cross-disciplinary postgraduate courses.
Entry requirements
Good first degree in business or management, or a non-business degree plus some work experience in international trade or business, or equivalent.
For students whose first language is not English, get more information about the English language requirements for studying at Strathclyde.
Applications from those who can demonstrate that their work experience merits direct entry to the programme will also be considered.
We may ask you to undertake a formal interview to discuss your achievements and aspirations.
You must be competent in word processing, the use of spreadsheets and in report writing.
Pre-Masters preparation course
The Pre-Masters Programme is a preparation course for international students (non-EU/UK) who do not meet the entry requirements for a Masters degree at University of Strathclyde. The Pre-Masters programme provides progression to a number of degree options.
To find out more about the courses and opportunities on offer visit isc.strath.ac.uk or call today on +44 (0) 1273 339333 and discuss your education future. You can also complete the online application form. To ask a question please fill in the enquiry form and talk to one of our multi-lingual Student Enrolment Advisers today.
Where are they now?
Many of our graduates are in further work or study.*
Job titles include:
Assistant Vice President, Private Investment
Design Manager
Executive - Transaction Services - Mergers and Acquisitions
Market Analyst
Portfolio Planning Analyst
Production Manager
Senior Marketing Executive
Employers include:
AECOM
Chevron Nigeria
Deloitte
Edelman Berland
Off the Kerb
Siemens Industry Software
*Based on the results of the national Destinations of Leavers from Higher Education Survey (2014/15 and 2013/14).
Last updated Jan 2018
About the School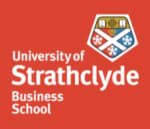 Strathclyde Business School(SBS)is a pioneering, internationally renowned academic organisation that shapes anddevelops the business minds of tomorrow. Strathclyde is one of a small percentage worldwi ... Read More
Strathclyde Business School(SBS)is a pioneering, internationally renowned academic organisation that shapes anddevelops the business minds of tomorrow. Strathclyde is one of a small percentage worldwide to be triple accredited, holding accreditation from the international bodies, AMBA, AACSB and EQUIS.
Read Less
Glasgow ,
Athens ,
Zürich ,
Singapore ,
Dar es Salaam ,
Manama ,
Kuala Lumpur ,
Petaling Jaya ,
Muscat ,
Muscat ,
Dubai ,
Abu Dhabi ,
Milan ,
Munich ,
Beijing ,
Toulouse
+ 15 More
Less