MSc in International Banking and Finance
Programme Description
Why this course?
The MSc in International Banking & Finance is for those wanting to develop careers in financial management within the international banking sector. For those of you already working in finance or banking, the course will enhance your effectiveness by covering the latest developments in the field.
You'll develop the concepts and skills required by financial managers and financial analysts working in the international banking sector. You'll also gain an understanding of contemporary financial problems and issues facing international business and banks.
The programme will provide you with:
a good understanding of financial theory and analysis
an appreciation of the nature and functioning of financial markets and institutions
a good working knowledge of accounting information and its use in financial decision-making and analysis
an ability to apply the analysis developed in the course
You'll study
The taught component of the course is covered in the first two semesters. The research project will take up the third (summer) semester.
Core subjects include Principles of Finance and Accounting & Financial Analysis. Elective subjects include Topics in Corporate Finance and Financial Management for Banks.
Dissertation or three research projects (MSc only)
You'll work on either a series of research projects or a dissertation, supported by an academic supervisor. You can choose a topic from the broad range of issues covered on the programme.
You'll be assessed on your ability to select and apply relevant theory and research methods. This work may be linked to an issue raised by, or a problem to be solved for, an employer.
Facilities
Strathclyde's Business School is one of the largest institutions of its kind in Europe. We've around 200 academic staff and more than 3000 full-time students.
The departments and specialist units work together to provide a dynamic, fully-rounded and varied programme of specialist and cross-disciplinary postgraduate courses.
The MSc International Banking & Finance has been accepted into the CFA Institute University Recognition Programme. This status is granted to institutions whose degree program(s) incorporate at least 70% of the CFA Programme Candidate Body of Knowledge (CBOK), which provide students with a solid grounding in the CBOK and positions them well to sit for the CFA exams.
Entry requirements
an Honours degree, or equivalent, in accounting, economics, business studies or a subject area with a strong quantitative bias. The programme requires no prior knowledge of finance or banking
for students whose first language is not English, get more information about the English language requirements for studying at Strathclyde
you must also be able to attend the introductory sessions in mid-September 2017
Pre-Masters preparation course
The Pre-Masters Programme is a preparation course for international students (non-EU/UK) who do not meet the entry requirements for a Masters degree at University of Strathclyde. The Pre-Masters programme provides progression to a number of degree options.
To find out more about the courses and opportunities on offer visit isc.strath.ac.uk or call today on +44 (0) 1273 339333 and discuss your education future. You can also complete the online application form. To ask a question please fill in the inquiry form and talk to one of our multi-lingual Student Enrolment Advisers today.
Careers
This course is suitable for those intending to develop their careers in finance, broadly defined as:
corporate finance
security analysis
portfolio management
options and futures
treasury management
the functioning of financial institutions and markets
financial decision-making in the public sector
Last updated Feb 2018
About the School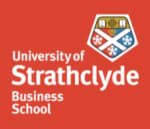 Strathclyde Business School(SBS)is a pioneering, internationally renowned academic organisation that shapes anddevelops the business minds of tomorrow. Strathclyde is one of a small percentage worldwi ... Read More
Strathclyde Business School(SBS)is a pioneering, internationally renowned academic organisation that shapes anddevelops the business minds of tomorrow. Strathclyde is one of a small percentage worldwide to be triple accredited, holding accreditation from the international bodies, AMBA, AACSB and EQUIS.
Read Less
Glasgow ,
Athens ,
Zürich ,
Singapore ,
Dar es Salaam ,
Manama ,
Kuala Lumpur ,
Petaling Jaya ,
Muscat ,
Muscat ,
Dubai ,
Abu Dhabi ,
Milan ,
Munich ,
Beijing ,
Toulouse
+ 15 More
Less