MSc in Forensic Archaeology and Crime Scene Investigation
Home ›
MSc ›
MSc in Forensic Archaeology and Crime Scene Investigation
Read more about this programme on the school's website
Programme Description
Forensic Archaeology is the specialist application of archaeological techniques to the search and recovery of evidential material from crime scenes, often but not always related to buried human remains.
This course is taught by staff with extensive crime scene experience who regularly work on a range of operations and are at the forefront of the professional development of the discipline.
The course will:
Provide you with advanced practical, analytical and interpretative skills in forensic archaeology
Provide training in discipline skills to enable graduates to pursue careers in Forensic Archaeology and Crime Scene Investigation (CSI)
Prepare students for careers in non-cognate fields through the emphasis on team working and application of a wide knowledge base to problem-solving
This course combines approaches from different disciplines to provide students with a comprehensive forensic skill set.
It is essential that forensic archaeologists are able to appreciate their role within a wider police investigation and have a detailed understanding of crime scene management procedures.
Forensic Archaeology in the United Kingdom is rapidly developing and recognised as a distinct discipline by the Home Office Forensic Science Regulator. Bradford staff have been actively involved in defining skills matrices for use by the Institute for Archaeologists as part of the process of professional regulation.
Rankings
We are ranked in the top 200 universities in the world for Archaeology in the 2019 QS World University Rankings by subject.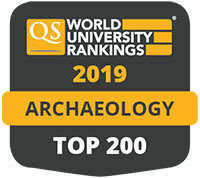 Entry requirements
2:2 or above in a relevant discipline, from either the humanities or sciences (e.g. archaeology, anthropology, forensic sciences, law, etc).
Other relevant qualifications and past experience will also be considered.
For North American students, normally a GPA of at least 2.5 on a scale of 4.0 is required, or an equivalent.
English language requirements
IELTS at 6.0 or the equivalent
If you do not meet the IELTS requirement, you can take a University of Bradford pre-sessional English course.
What you will study
The taught elements of the programme have a focused structure that covers the key areas within forensic archaeology and is based upon direct case experienced by the principal tutors working with UK police forces. There is a strong emphasis on hands-on experience utilising simulated crime scene scenarios.
Students can either chose to undertake a substantial individual research dissertation or students can alternatively take part in a simulated, complex, multi-scene investigation that will require high-level skills in cooperative working, scene management and information synthesis plus complete substantial research and writing assignments that require advanced level academic writing skills.
Please note that for 2020 entry, the module information is subject to change.
Modules
Core
Introduction to Forensic Archaeology and Forensic Anthropology (ARC7038-B)
Crime Scene Investigation (ARC7039-B)
Professional Development (ARC7041-B)
Dissertation (ARC7034-E) OR Advanced Fieldwork Programme for CSI (ARC7014-C) & Independent Research Papers for CSI (ARC7040-C)
Option
Forensic Archaeology and Crime Scene Investigation (ARC7012-B)
Forensic Taphonomy (ARC7017-B)
Law for Expert Witnesses (LAW7028-B)
Learning and assessment
Due to the specialist nature of the programme, all modules are core to the programme, although students can choose between the research dissertation and the non-dissertation route. The teaching strategy makes use of employer engagement by including the delivery of elements from police CSIs, and specialists from Forensic Service Providers (Crime Scene Investigation, Forensic Archaeology and CSI) in support of LO1.
The thematic modules are delivered in a combination of formal lectures, student-led intensive seminars/tutorials and extensive practical instruction. Coursework (simulated crime scene and field documentation, witness statements) is geared towards demonstrating relevant knowledge, understanding and professional skills in principal approaches to the recovery, interpretation and reporting of forensic evidence. Communication skills are tested in both written and oral form in several modules.
Fees, finance and scholarships
Tuition fee
Home/EU: £8,570
International: £19,890
Scholarships
Every year we award numerous non-repayable scholarships to UK, EU and international students on the basis of academic excellence, personal circumstances or economic hardship. For full details, visit our scholarships website.
Career support
The University is committed to helping students develop and enhance employability and this is an integral part of many programmes. Specialist support is available throughout the course from Career and Employability Services including help to find part-time work while studying, placements, vacation work and graduate vacancies. Students are encouraged to access this support at an early stage and to use the extensive resources on the Careers website.
Discussing options with specialist advisers helps to clarify plans by exploring options and refining skills of job-hunting. In most of our programmes, there is direct input by Career Development Advisers into the curriculum or through specially arranged workshops.
Career prospects
Graduates from this programme have gone on to work in law enforcement (both as Police Officers and Scene of Crime/Scientific Support), Forensic Science as well as commercial archaeology with enhanced skill sets.
Last updated Jan 2020
About the School
At the University of Bradford, you'll benefit from - and be a part of – teaching and research that harnesses technology for the good of society. You'll learn from academic and industry experts who are ... Read More
At the University of Bradford, you'll benefit from - and be a part of – teaching and research that harnesses technology for the good of society. You'll learn from academic and industry experts who are shaping the future of their sectors in world-class facilities. We've invested millions of pounds in high-tech learning environments, such as our motion capture studio and new School of Management facilities. During your time with us, you can become the very best version of yourself. The University is a place where you can expand your mind and make lifelong friends; where you can grow, learn, experience. Where you can belong, and where we support you every step of the way.
Read Less