Read more about this programme on the school's website
Programme Description
The operation of financial markets and the delivery of financial services impact a variety of real-world issues including job creation and credit approval. Our vocationally minded new MSc in Finance, Technology and Policy, the first of its kind in the world, addresses the knowledge gap created by the pace of technological transformation in financial services and markets.
Learning Outcomes
This Master's degree sits at the intersection of the three most important drivers of a modern economy – financial services and markets, technology, and policy.
As well as delivering a solid understanding of key theoretical finance and economic concepts, this MSc encourages potential future leaders to analyse and challenge the accepted financial setup.
By the conclusion of the programme, you will be able to:
Demonstrate an advanced knowledge of key theoretical finance and economic concepts underpinning financial markets
Critically compare, contrast and evaluate the different machine learning techniques in terms of their applicability to solving problems in finance, this can be demonstrated by students using appropriate software to apply techniques to a given set of data
Have an in-depth understanding of the relationships existing among the key global financial systems; for example, how bond yields dictate investment in equity and its derivatives
Conduct valuation of financial instruments and projects within relevant regulatory contexts
Trade financial instruments on exchanges/trading platforms by using state-of-the-art software packages and harnessing the power of relevant real-time financial data
Demonstrate an appreciation of the role played by policies in shaping financial services delivery and financial markets
Critically evaluate markets by being able to competently present arguments on the criticisms of the current set up and offer the basis for the development of alternative technology-based markets and financial services products
Demonstrate an appreciation of the social dimensions of technology use in financial markets
Programme Structure
The MSc in Finance, Technology and Policy is designed to provide you with a solid foundation in core principles alongside option courses offering a more tailored experience. This programme runs for one academic year, starting in mid-September. At the start of the programme, you study compulsory courses, which are undertaken in semester one. These are the foundation upon which the whole MSc is built and ensure a common basis of knowledge across the different areas.
A comprehensive Welcome Week provides an introduction to the programme, the School, and the University. Designed to be both informative and fun, it enables you to get acquainted with your fellow classmates.
Through the selection of various option courses, you can tailor your studies towards your career interests.
Finally, your MSc dissertation brings all of the year's learning together in a piece of work unique to each student.
Industry Opportunities
The Business School's links with business and industry can result in invaluable experiences. We have close connections with Fintech Scotland and the growing Fintech industry.
The MSc in Finance, Technology & Policy programme has a number of exciting partnerships with industry, consultants, government agencies and NGOs.
Partnerships
Our MSc in Finance, Technology and Policy applies principles of financial economics, sociology, and practical programming and big data analysis to help students focus on solving real problems and developing the skill sets that are relevant for employers now and in the future. Students can also tailor their degrees to include other relevant aspects of operating within the Fintech space.
Students will have the opportunity to work with industry partners to develop cutting-edge solutions to live challenges as part of student consultancy projects sponsored by financial and technology institutions. These course elements open up a host of opportunities from networking with potential employers, applying learnings and being able to include this in job applications, to developing new concepts that could potentially be the basis for starting your own business.
The Edinburgh Futures Institute
This Master's degree is being launched as part of the newly established Edinburgh Futures Institute at the University. Although led by the Business School, this programme is drawing on the expert knowledge and research from across a number of disciplines within the University allowing for students to benefit from different approaches and viewpoints on how to tackle complex problems such as the ones being faced globally by the financial markets and financial services firms. We have also sought and received input in the development of the programme from industry partners including Fintech Scotland and its members.
Career Development
Our Student Development Team will support your career aspirations by focusing on key skills such as teamwork, networking, and job search strategies.
Graduates from the University of Edinburgh are highly sought after globally. Our dedicated Student Development Team within the Business School will be an integral part of your student experience from day one. We are here to help you become equipped to maximize your potential in the global market.
Graduate Employment
Students graduating from this programme will be equipped to apply for a broad range of positions. These include posts as:
Product Developers
Fund Managers
Product Development Team Leads in FI Trading/Investment
Further opportunities include positions within:
Market and Consumer Research enterprises
Regulatory agencies
Government ministries and departments
Financial Technology product-based firms
Voluntary Sector
Entry Requirements
Entrance to our MSc programmes is strongly competitive. You can increase your chances of a successful application by exceeding the minimum programme requirements.
Academic Requirements
You will need a UK first-class or 2:1 honors degree or an equivalent overseas qualification.
Supporting Your Application
Relevant work experience is not required but may increase your chances of acceptance.
Relevant professional qualifications will be considered.
Preference will be given to those with grades above the minimum requirements due to strong competition for places on this programme.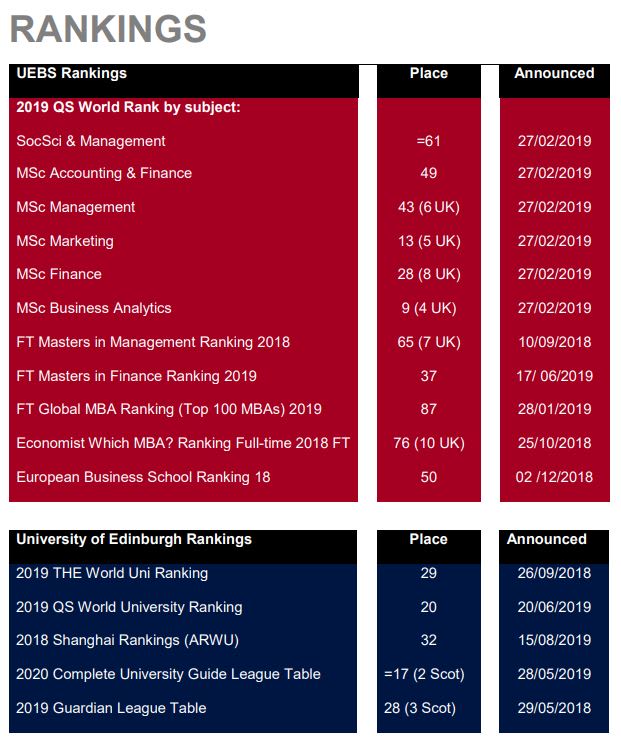 Last updated Aug 2019
About the School
At the heart of a university with a 400 year heritage that is consistently rated one of the world's best, and centrally located in one of Europe's most stunning business and cultural capitals the Univ ... Read More
At the heart of a university with a 400 year heritage that is consistently rated one of the world's best, and centrally located in one of Europe's most stunning business and cultural capitals the University of Edinburgh Business School offers an experience that few can rival.
Read Less