Read more about this programme on the school's website
Programme Description
⚡️ Coronavirus (COVID-19) update
We have temporarily modified programmes to virtual learning classrooms, so that all the scheduled teaching can take place online. Programmes will start in November 2020 and, if required, teaching online and then change to on-campus learning.
Understanding the interactions between environment and society in space and time
Environmental Geography addresses contemporary environmental challenges from an interdisciplinary perspective.
You are looking for an M.Sc. program that combines an in-depth education in natural sciences with contextualization from social sciences to address major contemporary challenges of environmental change?
You seek for an international place of study with excellent training facilities and a strong focus on research-led teaching?
You want a practice-oriented M.Sc. program that provides you with knowledge and skills to build your personal career in the environmental sector?
Then come join us at the University of Bayreuth and apply here!
Why Environmental Geography?
Environmental changes at any scale, from global to local, are of crucial importance to life on planet Earth. In addition to climate change, the major contemporary challenges include changes in biodiversity, soil degradation, and increases in mass movements. Often the dynamics of such environmental processes require an understanding of the spatial and temporal couplings between the atmosphere, biosphere, relief sphere, pedosphere, and hydrosphere. In addition, the interaction with human activities is of the utmost importance. Physical geography – as an interdisciplinary field with a marked focus on the environment-society nexus – is among the core disciplines addressing and examining these environmental changes.
The new M.Sc. program 'Environmental Geography' at the University of Bayreuth, Germany, addresses students who seek:
to obtain knowledge about the dynamics of environmental processes,
to acquire the analytical skills to assess human impacts on landforms and natural cycles,
and to benefit from a place of study that is strong in research, welcoming, and international.
M.Sc. Programme
Interested in studying Environmental Geography at the University of Bayreuth? Get a first overview and more detailed information about our M.Sc. program here.
The English-taught M.Sc. program 'Environmental Geography' at the University of Bayreuth provides expertise and practical experience in the field of environmental systems science from an explicitly interdisciplinary perspective. The combination of core areas in the natural sciences and contextualization from the social sciences (e.g. ecosystem services and geographical conflict research) ensure that our students receive training that is unique in Central and Eastern Europe. Research-led teaching, state-of-the-art quantitative methods, and training facilities such as a dating laboratory or the University's Botanical Garden allow for an application- and target-oriented program of study. Students receive training in the analysis and evaluation of complex environmental systems, in critical reflection upon the research process, in an abstraction of research results, as well as in oral and written communication of findings.
The thematic block of the M.Sc. program consists of a general module (A), two modules that aim at an advanced theoretical and practical examination with the environmental complexes 'Earth, Soil & Surface' (B) and 'Climate, Water & Vegetation' (C), as well as a module in 'Environment & Society' (S). In addition, electives in methodological concentrations of the student's choice (M) and a range of individual electives (F) cater to the students' personal interests. Your career-oriented qualification is reinforced with a compulsory internship in a non-university setting (I). The R-modules serve the student's involvement with the process of research. The 4th semester is intended for the master thesis and disputation (T).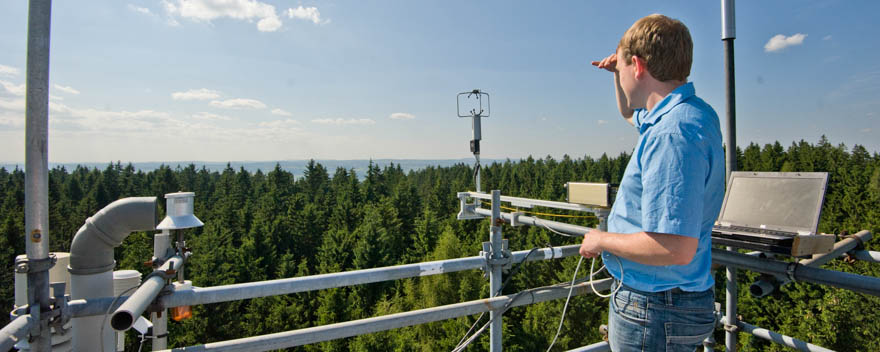 Perspectives
The ongoing trend of global environmental change, depletion of resources, and the social perception of these developments are leading to an increased political and economic focus on topics relating to the environment and sustainability. This situation is driving up demand for experts with research- and practice-oriented training in the environmental sciences. Our graduates are thus prepared for a broad range of career opportunities in the private and public sectors. Possible fields of activity include:
regional and urban planning,
nature conservation,
environmental planning and consulting,
laboratory-based environmental analysis,
science and research,
geoinformation services,
development cooperation.
Admission & Application
We welcome applications from graduates who are interested in exploring the patterns and processes of environmental change, who have a strong commitment to physical geography, and who are motivated to undertake rigorous training.
The application deadline is 15 June 2020 to start in winter semester 2020/21 (mid-October). We ask all students applicants to please register online.
Last updated Jun 2020
About the School
As one of Germany's youngest universities, we are able to operate in an unbiased, self-confident spirit of academic freedom, scientific progress, and social responsibility. In line with our vision, o ... Read More
As one of Germany's youngest universities, we are able to operate in an unbiased, self-confident spirit of academic freedom, scientific progress, and social responsibility. In line with our vision, our top priorities are individual supervision, maintaining high academic standards, and creating programmes of study that take current research into account. Our interdisciplinary focus and the innovative collaboration between many of our disciplines are key features of Bayreuth's research culture.
Read Less