Programme Description
Health and Social Psychology
Why is it so hard for some people to limit their alcohol consumption? Why do some people lose their temper easily? Do you like finding answers to questions such as these? And can you see yourself helping people change their habits? Then you should consider specialising in Health and Social Psychology. The main focus of this specialisation is on understanding how people's personalities, cognitions and social environment influence their health and social functioning. You'll analyse the underlying mechanisms of unhealthy or antisocial behaviour using recent theories and models from various psychological disciplines. And you'll use this knowledge to set up behaviour-change programmes. After completing your master's, you can become a researcher in an academic or applied health setting, or work in communication planning, health promotion or policy-making.
Why this programme?
In the specialisation in Health and Social Psychology, you'll study behaviour and behavioural change using methods from clinical and social psychology. The main focus is on understanding how people's personalities, cognitions and social environment influence their health and social functioning.
The underlying mechanisms of unhealthy & antisocial behaviour
Using recent theories and models from various psychological disciplines, you'll learn how to analyse the underlying mechanisms of unhealthy and antisocial behaviours such as:
eating disorders
smoking
excessive drinking
reckless driving
unsafe sex
With this knowledge, you can systematically develop interventions to help people change such behaviour. You'll delve into issues like automatic versus controlled influences on behaviour, self-regulation and the development of behavioural change programmes.
Programme outline
The specialisation in Health and Social Psychology offers the following core courses:
Bad habits: will familiarise you with various recent views from both social and clinical psychology which explain how healthy and desirable behaviours and their negative counterparts develop and endure. Bad habits will be considered from a cognitive perspective, with a focus on automatic associative processes and perceptual processes. The role of the social environment in the occurrence of bad habits is also included in this course.
Manipulation: deals with strategies of social influence, persuasion and attitude change. You'll learn which techniques, tactics and procedures people use to manipulate or change the beliefs and behaviour of other people. You'll participate in discussions on how social influence techniques work and about the psychological principles underlying the effects of those techniques.
Self-control regulation: focuses on the regulation of behaviour. You'll look at issues such as why people find it so hard to resist their impulses and will study various self-control processes, including emotional self-regulation, automatic self-regulation and the role of thinking (beliefs) and acceptance. You'll also focus on possible ways of improving the ability to practise self-control.
Planning behaviour-change programmes: focuses on applying psychological theories to the development of behavioural-change interventions. You'll look at topics such as risk communication, attitude change, social influences, self-regulation, and prejudice and discrimination.
You'll also take a number of professional skills trainings in addition to lectures and workshops on reserch methods and designs, research ethics and applying for ethical approval, writing a research proposal, and data analysis. This will help prepare you for completing a research internship and writing your thesis.
Is it right for me?
Health and Social Psychology is a good fit if you want to:
analyse everyday individual & societal problems using experimental or applied research
learn about the mechanisms behind bad habits
help people prevent or change undesirable behaviour
learn about how self-control can lead to good habits
gain practical experience putting what you've learned about health research & promotion into practice
Linking up with ongoing research
The themes of the Health and Social Psychology specialisation are closely linked to research of our staff. They include:
the role of fear in risk communication
eating disorders
sexual health
obesity
social norms
self-control
addictive behaviours
stigmatisation and discrimination
learning theories
cognitive processing of health-related issues
intervention development
planned behaviour change
The close link between education and research offers you many opportunities to participate in ongoing research – both at Maastricht University or elsewhere, including abroad.
Research facilities
When conducting your research, you'll have access to the faculty's laboratories including:
the behaviour laboratory (equipped with cameras)
the social psychology laboratory (with separate computer cubicles)
the drinking laboratory (with a full-scale bar)
the eating laboratory (with a kitchen)
Internship & thesis
Research internship
The research internship gives you the opportunity to participate in the ongoing research of the faculty's academic staff or to work with external academic or clinical institutions. You will design and pursue your own research question, which will be the foundation of your master's thesis.
You can choose the subject of your research internship from a wide variety of topics that fit within your chosen specialisation. The internship can be done in the Netherlands or abroad.
Clinical internship (addition to standard programme)
You also have the option to do a clinical internship in addition to the normal programme, which will give you the clinical experience needed to meet the requirements for a professional clinical training programme in the Netherlands (obtainment of BAPD).
Thesis topics
For your thesis, you could examine topics like:
conditions that help people successfully control their impulses
what makes people more likely to fail when faced by temptation
how theories of social influence can be applied to effectively change behaviour
how persuasive messages should be designed to effectively change behaviour
Problem-Based Learning
As with many Maastricht University programmes, Health & Social Psychology is taught using Problem-Based Learning (PBL). In small tutorial groups of up to 13 students, you'll seek solutions to 'problems' taken from real-world situations. Instructors act as facilitators, giving help as it's needed. This allows you to build independence and develop problem-solving skills that you'll need in the field. This active, dynamic and collaborative learning method has one of the highest knowledge retention rates of any instructional method.
Double Degree master's programme
Double Degree in Cognitive Sciences and Psychology with the University of Milan, Italy
Students who have been admitted to the one-year Master's in Work and Organisational Psychology (WOP)/Health and Social Psychology (HSP)/Neuropsychology (NP) at FPN have the opportunity to participate in this two-year Double Degree master's programme. You'll follow the one-year master's in WOP/HSP/NP at FPN prior to the second year of the two-year master's programme Cognitive Sciences and Decision Making in Milan. The selection takes place in the first semester of the master's programme at FPN.
International classroom
From day one of the programme, you'll be challenged with differing viewpoints and experiences as you interact with staff and students from all over Europe and the world. Your preconceptions will change your and worldview will be enhanced by this interaction, bringing you closer to the programme's goal of teaching students not only facts and concepts but also international accessibility and understanding. Roughly 50% of the students in this master's programme come from outside the Netherlands. Such diversity creates an international atmosphere that is strengthened by the international orientation of the programme.
PREMIUM honours programme
Want to gain that extra edge by getting real-world experience during your studies? The PREMIUM honours programme will help you gain the experience and develop the skills employers are looking for. As part of a team of students and under the guidance of our academic staff, you'll spend about three months working on a real-world assignment for a company, NGO or educational institution. You'll also work on a personal development plan, receive intensive individual coaching and attend master classes and workshops. All of this will take about 250 hours, but it will give you a lifetime of benefits.
Admission Requirements
See website www.maastrichtuniversity.nl/fpn/masters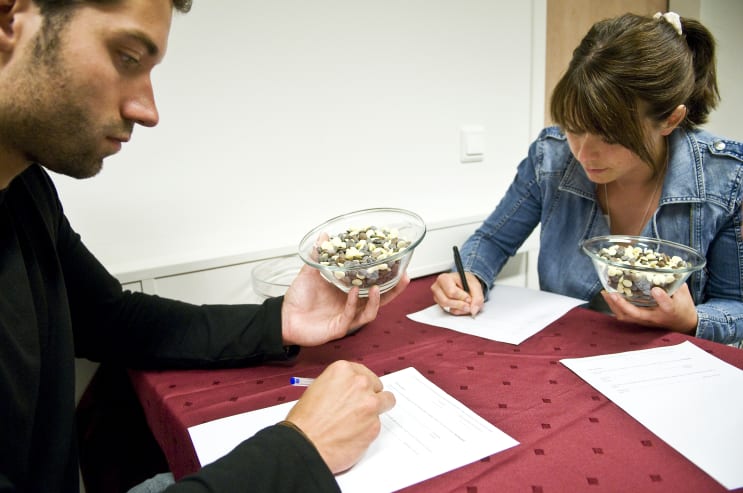 Last updated Feb 2020
About the School
Dear prospective student, Thank you for your interest in our master's programme. Please use the form to request our newest study brochure 2016-2017.
Dear prospective student, Thank you for your interest in our master's programme. Please use the form to request our newest study brochure 2016-2017.
Read Less