Programme Description
Overview
Programme Duration: One academic year (on campus)+ Final Management Project (can be completed remotely while working)
Entry Requirements: Bachelor-level undergraduate degree in any subject. Fluency in English
Full Programme Fees: € 21,450 - International Study Trip included!
Campus Location: Grenoble, France
Language: English
Scholarships and Financial Aid available
Objectives
The objective of this program is to build the abilities and skills to develop and lead the business in an international and multicultural environment.
Participants will develop the knowledge and competencies to identify and understand critical business drivers and current issues, develop appropriate strategies to create competitive advantage and sources of value.
The challenges of the program are to understand the approach to different international markets, the negotiation process in a multicultural context, the globalization of business and to help to improve the competitiveness of companies.
Programme
Programme Content*
The first year of the Master is a full-time year in Grenoble. Students will be required to attend the program full-time for one academic year from September to June the following year. Upon successful completion of these modules, participants will begin their Final Management Project. Students normally work part- or full-time during this phase and can be based anywhere in the world.
Year 1 - Campus Year
Introduction Session Business Fundamentals
Leadership, Teambuilding and Managerial Creativity
Corporate Finance and Business Planning
Accounting
Research Methods for Managers
Mergers, Acquisitions and Restructuring
Strategic Management
International Negotiations
Budgeting and Controlling
Legal Environment of International Business
Managerial Economics
Business Development Specifics
New Venture Business Planning
Digital Transformatin In Business
International Marketing Management
Digital Marketing 1 : Insight into Digital
Digital Marketing 2 : IMC, Strategy & Digital Models
Market Research
Project Management
Entrepreneurship and Opportunities
Purchasing
Building Strategic Key Accounts
Consultancy Selling
Study Residency trip
Live Business Case
Project Proposal
*The content of the program may be adapted from year to year to take into account the needs of industry. Class attendance is compulsory.
Year 2 - Final Management Project
At the end of the one-academic-year full-time part of the program, each student will be required to complete a Final Management Project of approximately 15,000 words in length, under the guidance of a tutor. This is an applied or theoretical research project that can be completed at a distance and in parallel with full-time employment or an approved internship. To successfully complete the Final Management Project, students are required to address a particular research question or knowledge gap in their chosen field of their study. This will be business oriented and coherent with the program's objectives. A student may choose to write their project on a topic grounded in their internship experience.
Live Business Cases
During this program, participants will have the opportunity to become real-life business developers by exploring a Live Business Case provided by companies working in partnerships with the MSc Business Development program. The work students do on the Live Business Case is closely linked to the International Study Trip. Students will work in groups, delving deeply into their cases during the seven months from October to June under the supervision of a GEM coach.
International Study Trip
As part of the MSc Business Development program, students have the opportunity to visit one emerging economy each year (Brazil, Russia, China, India). The goal is to create an integrated learning experience for all participants.
The International Study Trip combines academic lectures, corporate visits, and cultural activities. Students gain extensive knowledge of global business practices to prepare them as business developers that consistently perform across cultures and compete in a global market.
The International Study Trip is linked with the Live Business Case and students will have the opportunity to visit major companies.
Upcoming Study Trips:
Dubaï 2019 | Morocco 2020 | Czech Republic 2021
Recognition
Graduates from the MSc Business Development also receive a certificate conferring them the title of "Manager International". This title is recognized by the recognized by the French State through France Compétences, an agency belonging to the French Ministry of Labor, at Level I (equivalent to a level 7 on the European Qualifications Framework) - the highest level for such certification.
It is a recognition that the graduate's core international management skills meet standards established by the Ministry of Labor for managers of international business. For students planning to work in France following their studies, this recognition presents a competitive advantage.
Top Employers of our MSc Business Development Graduates
Adidas (Germany), Accenture (France), Aldi (UK), Altran (Brazil), Arjomary Wiggins (France), American Tobacco (Denmark), Atos Consulting (France), Bayer Bloomberg (UK), BMW (Germany), Bombardier (USA), Coca-Cola (France), Gaumont (France), General Electric (USA), General Electric (France), Google (Ireland), Hitachi (China), Henkel (Germany), Hewlett-Packard (France), IBM (Germany), InBev (Belgium), Infiniti (France), Lagardère (Singapore), Logica (France), Metro Cash&Carry (Germany), Michelin (France), Michelin (Sweden), Michelin (UK), Nissan (France), Orange (France), Pepsi-Cola (Saudi Arabia), PG (Switzerland), FG (Saudi Arabia), Pricewaterhouse Coopers (Russia), Rhodia (France), Samsung (France), Sanofi (France), SEB (France), Starbucks (France), SIT (Australia), Toyota (China), United Nations Zalando (Germany), Volvo (Belgium)
Examples of MSc Business Development Graduate Positions
Sales
Business Developer
Account Manager
Account Executive
District Manager
Sales Manager
Area Sales Promoter
Sales Section Manager
Strategic Branding
Digital Strategy
Product Communication
International Marketing Manager
International Marketing Assistant
Business Development & Entrepreneurship
Business Analyst
Innovation and Management Consultant
Department Manager
Strategic and Enterprise and Business Planning
Delivery Manager
Marketing and Business Developer
Testimonial
"The MSc Business Development exposed to a very challenging environment in which I excelled both academically and personally. The study trip abroad to Japan was a real highlight of the program, combining an enriching cultural immersion and many corporate visits.
I also feel that being in group of 43 students from 23 nationalities greatly enhanced my interpersonal and intercultural skills as well as building my international network.
The Live Business Case was a very rewarding aspect of the program which involved working with consultants from real companies over the course of 7-8 months. I worked on the Schneider Electric business case and at the end of the first academic year of the program I received an internship offer from Schneider. It was clear that the MSc Business Development had already greatly increased my employability.
Since then I have been working as a Business Developer in an innovative department called Shore Connection at Schneider Electric. It has also been a great opportunity to practice my French. I am convinced that this Master's program has provided a lot of added value in terms of career opportunities and opened doors for me which previously were inaccessible."
Last updated Oct 2019
About the School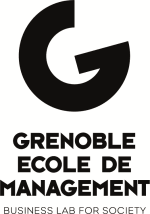 Grenoble Ecole de Management (GEM) has earned both national and international recognition. More than just a school, GEM represents an open-ended laboratory through which 8,000 students and 500 employe ... Read More
Grenoble Ecole de Management (GEM) has earned both national and international recognition. More than just a school, GEM represents an open-ended laboratory through which 8,000 students and 500 employees learn and work every day to solve complex problems and overcome major challenges for business and society.
Read Less
Grenoble ,
Medellín ,
Grenoble ,
Tbilisi ,
Berlin ,
Moscow ,
Île-de-France ,
Singapore
+ 7 More
Less