MEng / BEng (Hons) Civil Engineering & Construction
Home ›
Master ›
MEng / BEng (Hons) Civil Engineering & Construction
Programme Description
The School of Engineering at Mediterranean College – founded in 2005 – is the pioneer in the delivery of higher education Engineering courses in Greece.
The course can lead to professional recognition and practice, according to the requirements of the UK Engineering Council, and it may also lead to full professional rights in Greece (chartered engineer status).
The course covers the four basic civil engineering areas: Structural, Geotechnical, Hydraulic and Infrastructure, being contextualised to the Greek engineering industry (legislation issues, etc).
The course includes Computer Aided Design, design and project management, and also focuses on dynamics, structural analysis, reinforced concrete and steel structures.
Students have access to modern facilities, both at the College's in-house workshops and at the partner organisations state-of-the-art labs, to do their practical training, projects and internships.
This programme is validated by the University of Derby and aims to prepare students as graduate Civil Engineers for a successful career in the Construction field. Graduates may obtain the license to practice the profession as Chartered Engineers (CEng).
rawpixel.com / Pexels
Admissions Requirements
The programme addresses high school graduates who wish to build a career in Civil Engineering.
Requirements for registration:
High School leaving certificate (Apolyterion) from a General or Vocational Senior High School (or equivalent)
Reference Letter (1)
Adequate knowledge of English (IELTS 4.5 or equivalent)*
Academic Interview
Photos (2)
ID-Card/passport
*Candidates without official English language certificates can sit the English language placement test of Mediterranean College.
Holders of Higher National Diplomas (HND) or Institute of Vocational Training (IEK) diplomas, students of Technological (TEI) or Higher Education Institutions (AEI) of relevant fields may be admitted to an advanced stage of the course, upon a Recognition of Prior Learning procedure. They need to additionally submit:
Diploma and/or academic transcript
Programme Handbook (if available)
Structure & Content
The course consists of 20-credits module and a 40-credit diploma thesis in the final year. The first two years are taught and assessed in Greek and the remaining two are taught and assessed in English.
Students are expected to work on real projects and case studies and participate in field trips to worksites and workshops, so as to apply in practice everything they have learnt in class and develop the knowledge and skills the industry requires from graduate engineers.
Year 1
Year 2
Year 3
Year 4
Year 5
Mathematics for Study in Technology
Applied Mathematics 1
Infrastructure Design 2
Geotechnics 3
Research Methods, Application and Evaluation
Scholarship for Technologies
Civil Engineering Construction
Applied Mathematics 2
Civil Engineering and Construction Management
Environmental Risk and Responsibility
English for Study in Technology Part A
Construction CAD and Personal Development
Project Planning and Development
Advanced Structural Analysis and Design 3
Flood Risk Management
Engineering Science
English for Study in Technology C
Fluids and Drainage Engineering
Fluid Mechanics 3
Earthquake Engineering (optional)
Introduction to Structural Analysis and Dynamics
Structures 1
Structural Design and Assessment 2
Independent Study & Professional Development (Civil Engineering and Construction)
Design of Steel and Concrete Buildings (optional)
English for Study in Technology Part B
Construction Materials Technology
Geology and Soil Mechanics
CPD and Strategic Management
Site Surveying
MEng Interdisciplinary Group Project
Teaching & Learning
You'll learn through a mixture of lectures, tutorials and laboratory work. A considerable amount of e-learning support material is also provided. The learning methods we use are:
Lectures, to cover theory.
Seminars, to solve problems and discuss case studies.
Computer labs, to train in the latest design, project management and simulation software.
Labs & workshops, to apply theory, run tests and experiments.
Clinics (supporting classes), to tackle the most difficult parts of the modules.
Tutorials, to provide one-on-one support to students.
Independent learning, where students engage in self-directed study.
Student learning is further enhanced through:
Guest lectures, by industry experts who provide contemporary professional expertise and invaluable networking opportunities.
Supervised independent study, where experienced academic tutors help students transit from the academic to the professional environment.
Real industry projects, in order to practice the profession in a simulative environment.
Regular company visits and field trips/exercises.
Real case simulations, such as the job interview simulation.
Optional internship.
Access to multiple online and off-line resources that facilitates independent learning.
Students are assessed in a variety of ways, including:
Individual and multiple types of group work.
Lab experiments.
Presentations
Individual research
Exams
Why choose this course
Mediterranean College's School of Engineering was founded in 2005 and was the first to provide higher education Engineering courses in Greece.
The degree may lead graduates to obtain the Incorporated Engineer status by the UK Engineering Council, while it gives them the basis to pursue full professional rights in Greece (chartered engineer status), through further study and work experience. See jbm.org.uk for further information.
The course covers the four basic civil engineering areas – Structural, Geotechnical, Hydraulic and Infrastructure – and contains modules relevant to the Greek industry, such as dynamics, structural analysis, reinforced concrete and steel structures, making the degree recognition process by the Greek Authorities more straightforward.
The course content takes into account both the European and the Greek legislative framework, offering students the flexibility for employment in Greece and in other European countries.
The course is significantly enriched with technical design and CAD, along with design and structures simulation modules, so that students acquire practical skills. Its focus on management and project management enables graduates to develop entrepreneurial activity and pursue higher managerial positions in the technology sector.
The School of Engineering operates in-house Engineering workshops with all the necessary devices, machinery and software. It also links with external laboratories and companies in order to ensure that students access large-scale, lab test cases.
The learning process is further enhanced by a variety of educational activities (guest lectures, field trips, seminars, etc.) and an optional internship scheme, leading to more employable graduates.
The programme is delivered in both Greek and English so that students are gradually and smoothly introduced to studying in English. English lessons are provided during the 1st and 2nd year of study, specially designed to cover terminology and to help students meet the requirements of the English-taught part of the programme (students, therefore, do not need additional English tuition). Students receive the support of the College's English Department throughout their studies. As graduates of a UK University (being taught in English), they certify their English as a foreign language competence at a Proficiency (C2).
Mediterranean College gives particular emphasis on the academic support of undergraduate students: a personal tutor is assigned to every student; lecturers are available at office hours; students with difficulties may use the services of the counselling and learning support centre; students receive regular feedback on their academic progress; students have full access to the College's libraries and electronic resources
Mediterranean College has developed an integrated Employability plan, the MC Employability Scheme, focused on the contemporary needs of our Computing students: career counselling and professional development, regular guest lectures, real projects, seminars, networking events, employability fair, internship scheme.
All academic staff are accredited lecturers of the University of Derby for every module they teach. Mediterranean College implements an integrated system of recruitment, assessment and continuing professional development of academic staff, so that students receive excellent teaching and personal support to develop their social and professional skills.
The University of Derby (Guardian University Guide 2019) is a TOP 30 UK University and in the TOP 10 for student employability. This stems from constantly developing the curriculum as directed by employers, professional and accreditation bodies.
Further Study & Career
Our graduates may apply for the Chartered Engineer (CEng) status with the UK Engineering Council. See www.jbm.org.uk for further information.
After successfully completing the programme, graduates may continue for a Master's degree at Mediterranean College or at overseas universities. Alternatively, they can seek employment. BEng or BSc graduates may attend the following Master's programme offered by Mediterranean College:
MSc Civil Engineering and Construction
Those who wish to combine Engineering with Management and pursue higher managerial positions in the Engineering industry can opt to attend the following postgraduate courses:
MBA Global
MBA Global Finance
Alternatively, they can specialise in Energy Conservation and Management by following a CPD course offered in Mediterranean Professional Studies.
MEng (Hons) Civil Engineering and Construction graduates can seek employment in:
Technical/construction companies & agencies
Engineering planning & consulting agencies
Construction materials & machine trading companies
Repair companies
Workshops and laboratories
Consulting agencies
and as self-employed Civil Engineers.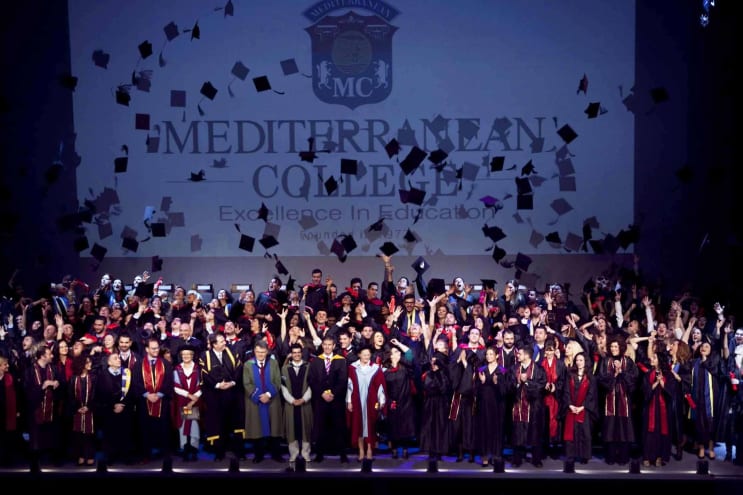 Last updated Aug 2019
About the School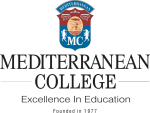 Being the first private College to be founded in Greece back in 1977, the Mediterranean College prides for its pioneering initiatives that have shaped private, higher education in Greece.
Being the first private College to be founded in Greece back in 1977, the Mediterranean College prides for its pioneering initiatives that have shaped private, higher education in Greece.
Read Less