Read more about this programme on the institution's website
Programme Description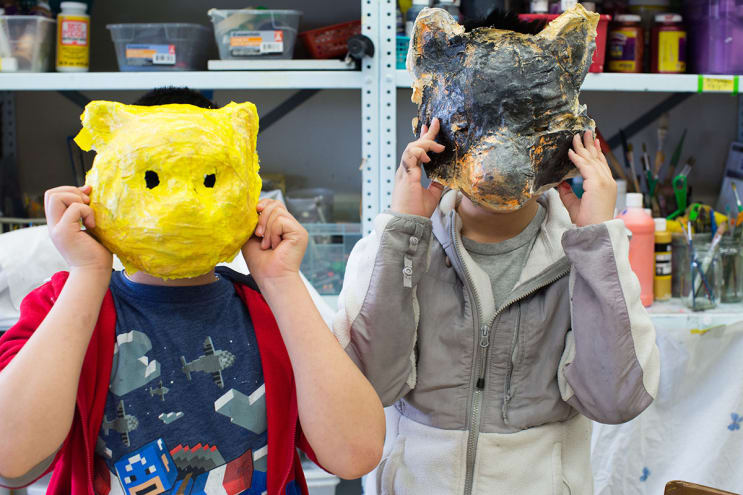 Mission Statement
The NYU Art Therapy Programme integrates psychotherapy and visual arts practice, engaging the creative power of art for clinical assessment and treatment. In particular, we promote (1) scholarly research abilities and evidence-based clinical praxis, (2) cross-cultural competency with an appreciation of social justice issues, and (3) fluency with the evolving technologies of new media art.
Programme Philosophy
Our person-centered clinical orientation is guided by humanistic and contemporary approaches to psychoanalytic theory that include ego psychology, object relations, self-psychology, and intersubjectivity psychology, and that are grounded in current empirical research, especially attachment and trauma theories.
Background
New York University has been identified with the training of art therapists since the 1950s when Margaret Naumburg, an eminent pioneer in the field, offered courses and training seminars on the graduate level in New York University's Department of Art and Art Professions. This tradition was continued when Edith Kramer came to the University in 1973 to develop a master's program in Art Therapy.

By 1976, the master of arts in Art Therapy program had obtained approval from the New York State Education Department, and in 1979, New York University's Graduate Art Therapy program was one of the first of five programs to receive approval from the American Art Therapy Association. The program prepares students to pass the New York State Licensure for a Creative Arts Therapist (LCAT) exam.
Programme Goals
To prepare competent entry-level Art Therapists in the cognitive (knowledge), psychomotor (skills), and affective (behavior) learning domains.
Programme Objectives
Cognitive (knowledge)
Students will develop a robust knowledge of clinical theory, with a solid grasp of psychodynamics. Students will master the professional Ethics Code that guides clinical thinking in challenging situations.
Psychomotor (skills)
Students will learn to practice art therapy with diverse populations, and acquire multicultural competency, reflecting attunement to current, global social justice issues.
Affective (attitudes/behaviors)
Students will develop an identity as both art therapist and practicing artist, as the wellspring of clinical attunement, empathy, compassion, and acuity is only fully realized by cultivating profound personal creativity.
Curriculum
The program requires a total of 60 credits to graduate; 39 credits are core art therapy courses and 12 credits are an internship. The remaining 9 credits are psychology electives, chosen from a wide variety of courses offered in other NYU graduate programs as well as local consortium universities.

Full-time students carry 12 to 13 credits per semester and complete the program in 2 years. Part-time students carry 6 to 9 credits per semester and complete the program in 3 to 6 years.

Individual curriculum advisement is available. Curriculum advisement for registration, regardless, is always offered in a group setting, because the majority of the full-time students follow the cohort curriculum (all students admitted in a given year take the same sequence of courses).

The cohort sequence is designed to optimize preparation for clinical practice. For the first term, students take two foundation courses. The first is Art for Art Therapists, a studio-based class. Here, students have the opportunity to understand and interpret their own creative processes and products, which is essential for understanding their own clinical transference/countertransference issues. The second foundation course is Theory and Practice of Art Therapy. This course combines didactic classroom learning with a fieldwork component that allows them to ease into clinical work gradually. Specifically, students observe art therapists working in real clinical settings, for 85-100 hours.

Generally, courses build upon each other, as for example, our three-term sequence of Children, Adolescent, and Adult Art Therapy. Our research class is offered in the third term in preparation for the thesis, in the fourth and final term.

All core courses are lecture format with class discussion and varying amounts of art experiential. Classes are held weekly, in 2½ hour sessions, with 14 -15 classes per semester. (See also courses offered.)
Internships
Our program offers unusual opportunities to graduate students in art therapy and takes full advantage of the wide variety of training opportunities available in New York, the art capital of the world and centre of one of the most diverse and richly complex health systems in the country. In particular, the concentration of experts in the field of mental health not only provides students with excellent opportunities for internships in a great variety of renowned settings but also allows them to attend the numerous lectures, seminars, workshops and conferences that abound in New York.

The NYU Graduate Art Therapy Programme offers an intensive 3-week Global Internship during the summer. Students work at a wide range of placements such as orphanages, academic settings, AIDS hospices, mental health facilities, senior residences, juvenile and adult prisons, and among HIV+ and other chronic populations. Internships have been held in Tanzania, Peru, South Africa, and Brazil and will continue in other locations. Successful students earn 3 academic credits.
The Final Project
In addition to course work and internship requirements, students in the Programme must complete a substantial project (thesis). The thesis must demonstrate both theoretical knowledge and accumulated clinical experience. It can be an in-depth case study, a research paper, or a creative and practical proposal (applied art therapy). The first draft of the thesis is due by March 1. Thereafter each student works closely with a reader (sponsor) up to the April 30 due date. The reader is usually a program faculty member, though, for highly specialized topics, an outside expert will serve that function. The reader grades the thesis, but if the reader or the student requests a second opinion, a second reader will be recruited. In addition to the extensive narrative evaluation and commentary, the theses are graded on a scale of A through F (a B- is required to pass; successive revisions are permitted).

Upon completion of the thesis, students present their work in a program mini-conference. This is a full-day event, and student presenters are encouraged to invite family, friends, and colleagues to attend.
Professional Development
New York University is also concerned with the continued growth and development of art therapists. We have instituted post-master's courses of interest to working professionals, such as Techniques of Supervision. Many graduates maintain a connection with the New York University's program serving as field supervisors, creating additional art therapy positions and contributing to the growth of art therapy. Some are successfully establishing private practices in communities and present their work in conferences and symposia. In addition, we have been offering a lecture series and symposia featuring speakers from the fields of art, art history, psychoanalysis, psychiatry, and psychology. These special programs allow art therapists and related professionals to expand their knowledge and experience.
Last updated Dec 2020
About the School
NYU Steinhardt's one-of-a-kind integration of education, health, the arts, and media studies puts us at the heart of a movement: education for social change.
NYU Steinhardt's one-of-a-kind integration of education, health, the arts, and media studies puts us at the heart of a movement: education for social change.
Read Less