Programme Description
This MA in Interpreting is designed to provide students with:
In-depth knowledge and understanding of the contexts and practices of professional interpreting, enabling students to develop the skills upon which professional interpreter competence is predicated;
Advanced expertise in their language pairs;
In-depth knowledge of the language-services market place;
Appropriate opportunities in professionally-based practice.
Highlights
Internationally Renowned Experts
An integral part of the programme is Queen's Certificate in Translation Technologies. Research in Modern Languages at Queen's was ranked 3rd in REF 2014 for Research Intensity and 5th for Grade Point Average, with particular strengths in literary studies, linguistics, translation and interpreting, postcolonial studies, visual cultures, digital humanities and medical humanities. The School hosts several large research projects across all the language areas, funded by the AHRC, the Leverhulme Trust and Horizon 2020.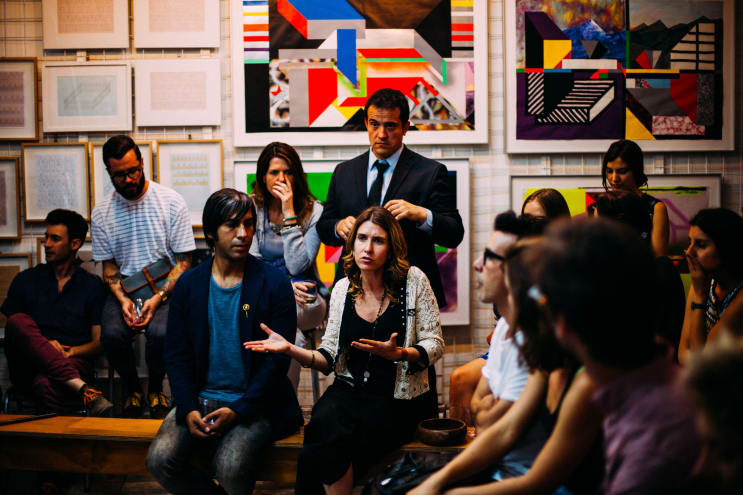 Course Structure
The programme introduces students to the contexts and environments in which professional interpreters work and to the research techniques and modes of practice required by these contexts. Delivered through a combination of seminars, workshops, guided private study, a programme of visiting speakers and appropriate professional practice, the structure of the programme enables students to work at the highest professional level. Please note that only the Chinese-English language pair will be offered for 2019 entry.
Semester 1
Consecutive Interpreting (20 CATS)
Simultaneous Interpreting (20 CATS)
Semester 1 and 2
Principles and Practices of Interpreting (40 CATS)
Semester 2
Commercial Interpreting (20 CATS)
Public Service Interpreting (20 CATS)
Dissertation
The dissertation will either be an extended essay on an aspect of interpreting theory and practice; or a case study documenting an extended interpreting engagement.
Teaching Times
Afternoon and evening. Occasional optional weekend training sessions.
Career Prospects
The translation and interpreting industry, public policy, business and commerce, and journalism.
Assessment
Assessments associated with the course are outlined below:
Practical interpreting assignments
Essays
Research projects
Entrance requirements
Graduate
Normally a 2.1 Honours degree or equivalent qualification acceptable to the University in a relevant subject.
A 2.2 Honours degree or equivalent qualification acceptable to the University may be acceptable with relevant professional experience. Applicants with qualifications below 2.2 Honours degree standard may be considered if they can demonstrate a minimum of three years of relevant professional experience. The University's Recognition of Prior Learning Policy provides guidance on the assessment of experiential learning (RPEL). Please visit http://go.qub.ac.uk/RPLpolicy for more information. If you would like further informal advice, please contact course convenor Dr Piotr Blumczynski at p.blumczynski@qub.ac.uk.
Please note that only the Mandarin-English language pair will be offered for 2020 entry. Students must demonstrate a high level of proficiency in both languages.
International Students
For information on international qualification equivalents, please check the specific information for your country.
English Language Requirements
Evidence of an IELTS* score of 6.5, with not less than 5.5 in any component, or an equivalent qualification acceptable to the University is required. *Taken within the last 2 years.
International students wishing to apply to Queen's University Belfast (and for whom English is not their first language), must be able to demonstrate their proficiency in English in order to benefit fully from their course of study or research. Non-EEA nationals must also satisfy UK Visas and Immigration (UKVI) immigration requirements for the English language for visa purposes.
For more information on English Language requirements for EEA and non-EEA nationals see: www.qub.ac.uk/EnglishLanguageReqs.
If you need to improve your English language skills before you enter this degree programme, INTO Queen's University Belfast offers a range of English language courses. These intensive and flexible courses are designed to improve your English ability for admission to this degree.
As a result of the COVID-19 pandemic, we will be offering Academic English and Pre-sessional courses online only from June to September 2020.
Academic English: an intensive English language and study skills course for successful university study at degree level
Pre-sessional English: a short intensive academic English course for students starting a degree programme at Queen's University Belfast and who need to improve their English.
Tuition Fees
| | |
| --- | --- |
| Northern Ireland (NI) | £6,140 |
| England, Scotland or Wales (GB) | £6,900 |
| Other (non-UK) EU | £6,140 |
| International | £16,900 |
All tuition fees quoted are for the academic year 2020-21. Tuition fees will be subject to an annual inflationary increase unless explicitly stated otherwise.
Additional course costs
All Students
Depending on the programme of study, there may be extra costs which are not covered by tuition fees, which students will need to consider when planning their studies.
Students can borrow books and access online learning resources from any Queen's library. If students wish to purchase recommended texts, rather than borrow them from the University Library, prices per text can range from £30 to £100. Students should also budget between £30 to £75 per year for photocopying, memory sticks and printing charges.
Students undertaking a period of work placement or study abroad, as either a compulsory or optional part of their programme, should be aware that they will have to fund additional travel and living costs.
If a programme includes a major project or dissertation, there may be costs associated with transport, accommodation and/or materials. The amount will depend on the project chosen. There may also be additional costs for printing and binding.
Students may wish to consider purchasing an electronic device; costs will vary depending on the specification of the model chosen.
There are also additional charges for graduation ceremonies, examination resits and library fines.
Interpreting costs
There are no specific additional course costs associated with this programme.
How do I fund my study?
The Department for the Economy will provide a tuition fee loan of up to £5,500 per NI / EU student for postgraduate study.
A postgraduate loans system in the UK offers government-backed student loans of up to £10,609 for taught and research Masters courses in all subject areas. Criteria, eligibility, repayment and application information are available on the UK government website.
Last updated Aug 2020
About the School
Founded in 1845 as Queen's College Belfast, we became an independent university in 1908. Today, we are ranked in the top 173 universities in the world (QS World Rankings 2020) in the top 140 in the wo ... Read More
Founded in 1845 as Queen's College Belfast, we became an independent university in 1908. Today, we are ranked in the top 173 universities in the world (QS World Rankings 2020) in the top 140 in the world for graduate prospects (QS Graduate Employability Rankings 2020), and a member of the Russell Group of UK research-intensive universities, combining excellence in research and education with a student-centred ethos.
Read Less