Programme Description
Art & design meet technology: The MA in Computing and the Arts combines two of our most popular creative study programs to bring together what goes together: Media Design and Audio Design. In the fields of creative programming, design thinking, and technology as well as design, art, and music we create a setup for success through a strong focus on practice-oriented study modules and real hands-on learning in cross-functional and interdisciplinary groups of highly motivated creative personalities.
Content, Objective and Course Structure
Computing and the Arts: Identifying problems and creating artificial and technological solutions informed by technology and artistic practice
The MA in Computing and the Arts at the hdpk in Berlin is a contemporary master degree scheme, based around the fields of technology, art, and audiovisual design - contextualized economically. Focusing on creative programming, multimedia applications, interfaces, installations and performances in artistic surroundings as well as personal skills, art and design practices and action competences, this MA provides you with everything you need to successfully enter the markets and to create a strong artistic identity.
First semester - Give it a go
In three 5-weeks-units of working in your very professional, working in a colleague's profession and finally working together to create different artifacts we will guide you to reflect yourself, learn to form others and take responsibility. In this unit, you will also learn about the conceptualization of projects and the different agile working methods.
Along the way, you will acquire important skills and knowledge in design methods, audio-visual and team-based programming, aesthetic and media history, (rapid) prototyping, audiovisual algorithms, user interfaces and interaction, presentation and conceptualization.
Second semester - Follow your path
In three 5-weeks-units of drafting, planning and carrying out new concepts and projects, you will experience the shaping of your soft skills such as ethical consciousness, the power of observation, change of perspective, empathy and motivation. In real life studio atmosphere, your critical ability will also be trained.
You will intensify your professional expertise and methodological skills in creative programming, media psychology, interactive net-based technology, design thinking, conceptualization and presentation, and audio programming concepts. Another important topic will be DSP - basics as well as applications.
Third semester - Going live
The 5-week-units are now three large steps to your final presentation. Teamwork means now not only working together successfully but balancing your own creative identity and your team's vision, responsibility for self-management and teamwork, self-reflection and resolving conflicts.
You practice handling legal and budgetary, environmental, time and space constraints to show the work you have done in a bigger context, in public space and in cooperation with external partners. Your artifacts and projects are going to be prepared for real-life exhibition using your advanced knowledge in the creation of interactive installations, 3D computer graphics, scenography, virtual and augmented reality, realisation and maintenance of hard- and software systems, market research, conceptualisation and budgeting, as well as filing funding requests for your work.
Fourth semester - Master thesis
In your final semester you are working towards your master thesis and finally, end your studies with a state-approved degree.
Career Perspectives
Creative Programming - from passing trend to key growth area: here's where the MA in Computing and the Arts could take you.
The MA in Computing and the Arts, with its double focus on creative programming on the one hand and professional action competences in cross-functional teams, on the other hand, gives a broad range of opportunities covering diverse creative fields.
Branches and Industries:
Audio and Audiovisual Software Industry
Creative Agencies and Companies
Dance, (Media) Art and Theatre
Computer and Video Games Industry
Job profiles (exemplary):
Media Technologist
Multimedia Artist
Art Director
Interaction Designer
User Experience Designer
Project Lead
Audio Software developer
AV Developer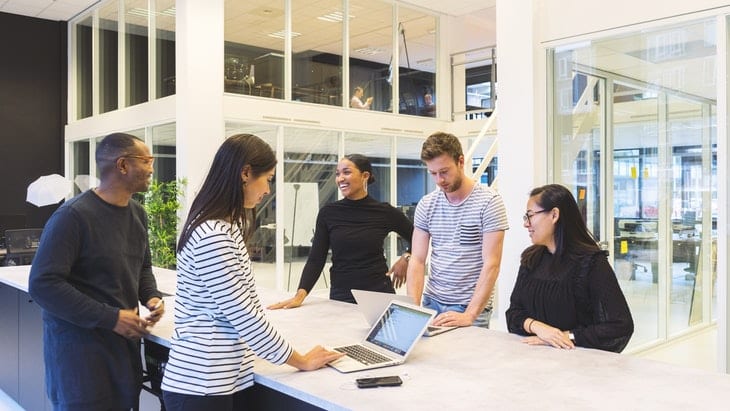 Application
"Show what you've got!" – How to apply for the Master program Computing and the Arts:
Our admission procedure is two-tiered: a first pre-selection is done based on the application documents and the artistic work samples. If you pass this pre-selection screening we will invite you to come to Berlin for our practical admission exam.
Admission Requirements
The MA in Computing and the Arts is aimed at applicants with a first degree in music, audio or visual design, in media arts ore others. It is a non-consecutive master program. We will specifically be looking for a strong motivation to express yourself and to design as well as for a solid understanding of computer-based realization of sound or design.
Skills in either visual or audio programming are recommended, even though you don't need to master C++. What really counts is your passion to express your ideas in audio-visual concepts.
Application
Applications can be made via our website or by post.
They need to include the following:
A completed and signed application form.
Cover letter (incorporated within the application form): Why are you interested in studying at the hdpk? What are your expectations? What are your professional perspectives?
Artistic work samples.
Officially certified copy of your degree certificate.
Academic transcript covering your previous study.
The abstract from your BA dissertation, and a description of its key themes.
Applications are accepted on a continuous basis. The deadline for the winter term in for Non-EU Applications is 15 May, for EU Applicants 15 July. Any remaining places are offered up to the beginning of the semester on 1 October.
Aptitude test
Once your application has been received, including all the required documents, and it has been established that the course content is appropriate for you, we would like to have the opportunity to meet you in person. This will allow us to assess your study-program-specific knowledge, your creativity, your commitment to express yourself creatively and your motivation. The entrance examination consists of a practical presentation and will be completed by an interview conducted by professors/teachers focusing on your artistic-aesthetic-technical qualifications, your basic theoretical and practical knowledge, your interest and your motivation to study Computing and the Arts at hdpk.
Last updated Aug 2019
About the School

The hdpk is a leading private university for the creative industries, situated in one of Germany's creative hubs: in Berlin. The study programs cover both artistic and technological aspects as well as ... Read More
The hdpk is a leading private university for the creative industries, situated in one of Germany's creative hubs: in Berlin. The study programs cover both artistic and technological aspects as well as practical management issues and media theory. The curriculum focuses on the music and media industries (apart from film and television).
Read Less