EMC – European Mining Course
Home ›
MSc ›
EMC – European Mining Course
Programme Description
Awarded the EIT Label in 2017

The Challenge
With a growing world population and increasing global welfare, the demand for most metals and minerals is increasing. At the same time, metal and material markets are not always predictable and ore grades are decreasing over time, making the challenge to identify and extract resources within economies of scale even more complex. Adding to this complexity, awareness of environmental issues is also growing and the world expects resources to be extracted in a responsible manner. It will be up to the mining engineer of the future to operate successfully in this challenging environment.
Due to the rapid evolution of the raw materials sector, mining engineers will be expected to have a command of vital innovation and entrepreneurial competencies and skills with a deep understanding of sustainability to address these challenges. The exposure to internationally-and culturally-diverse environments has also become an appealing and desired quality, as globalization is increasingly relevant in all industries, including the mining sector and its extensive supply chains.

European Mining Course (EMC): Mining engineers of the future
The triple degree Master European Mining Course (EMC) covers every aspect of the life cycle of mineral resources. It is a Master programme designed to provide a solid understanding of the global mining industry and takes a life-cycle approach by covering the entire mining value chain. It offers a state-of-the-art technical basis in resource modelling, mine design and economic evaluation. Technical knowledge is also supplemented with topics on business economics, ethics, environmental engineering and a clearly defined and structured programme for the management of health, safety and environment.
EMC aims to train professionals who will be the future decisionmakers and game-changers in the mineral resources and associated engineering trade, with a strong vision of the future developments in this industry. EMC supports the development of students into adaptive, innovative and entrepreneurially-oriented engineers capable of identifying the best approach to obtain optimal value from mineral ore deposits.

Programme Structure
EMC is a two-year programme. Students study for one semester at each of the three universities and move between countries as a group.
The 120 credit points (ECTS) programme starts in the autumn at Aalto University (Finland). After a break, during which students have the opportunity to complete an internship at a company, students move to RWTH Aachen University (Germany) and then continue onto the third semester at TU Delft (the Netherlands). The final semester is spent at one of the three Partner Universities to work on a thesis project, which may be carried out in cooperation with a company. Upon completion, students receive a triple degree diploma from each of the three participating universities.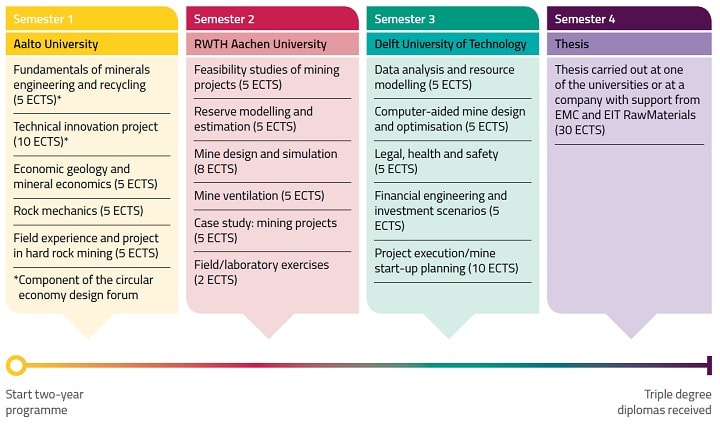 Innovation and Entrepreneurship Training
EMC aims to graduate adaptive, innovative and entrepreneurially-oriented engineers. To that end, innovation and entrepreneurship are embedded throughout the programme in the form of course content, case studies, project work, field trips, and professional contacts and support. Some examples include:
Courses designed to promote the development of an entrepreneurial mindset of students and the understanding of the circular economy, supported by the "Circular Economy Design Forum", an EIT RawMaterials project, taking place during semester 1 at Aalto University.
Aalto University courses examining the way companies deal with technical challenges in a business environment, including observing how these are experienced hands-on during the "Field Experience and Project in Hard Rock Mining", which consists of a one-week excursion to different mining operations and equipment manufacturers in Finland.
All EMC students are introduced to YES!Delft, one of the top tech incubators in Europe. The programmes at the YES!Delft Incubator focus on validating and growing promising technologies into successful enterprises.
At TU Delft there are courses on financing mining projects, business modelling, and implementation of optimisation strategies to improve business cases, while at the same time considering the socio-environmental impacts of an optimisation solution.
Lectures involving industry, study tours and site visits to business partners to see real-world operations. Students will also be given the opportunity to obtain industrial internship placements at an EMC programme partner company. Moreover, students are encouraged to carry out their thesis project in cooperation with a company. The process of forging a thesis together enforces your ability to learn and think like an entrepreneur.

Professional Profiles after Graduation
Are you a student who is:
Interested in taking a life-cycle approach to mining solutions?
Keen to learn vital innovation and entrepreneurial skills that will help you start your own company?
Motivated to work closely with industry, SMEs and start-ups at three top universities?
Given the worldwide demand for professionals in mining and minerals engineering and management, graduates of EMC have promising career opportunities. EMC graduates will be qualified to work for:
Mining companies and companies engaged in minerals and metals processing technology
Companies working on ore deposits and integrated production
Market leaders in efficient dredging and mining
Aggregates companies
Government agencies
Engineering and consulting firms
Knowledge institutions, research institutes and think-tanks
Alternatively, the entrepreneurial and innovative skills which you have developed during the programme will help you to set up your own business.
Requirements
A Bachelor degree of at least 180 ECTS, in appropriate subject areas (e.g. engineering, earth sciences, environmental sciences, mineral resources engineering) issued by one of the Partner Universities; or BSc degree or a Bachelor degree of at least 180 ECTS credit points or an equivalent university qualification from other top universities worldwide, in appropriate subject areas as mentioned above.

Fees
EU/EFTA students 2018: €2,083/year
Non-EU/EFTA students 2018: €18,750/year
For 2020 entry, fees are subject to an increase of approximately 3%. Please contact the coordinating university directly for more information: info@emmep.org

Scholarships
For students beginning in September 2020, EIT-Label scholarships from EIT RawMaterials of €13,500 per student are available. For information on how EIT-Label scholarships will be awarded and who is eligible, please contact the coordinating university directly: info@emmep.org
Last updated Nov 2019
About the School
EIT RawMaterials is able to offer students a unique opportunity to learn in a dynamic environment, focusing on real-life challenges. EIT RawMaterials is initiated and funded by the EIT (European Insti ... Read More
EIT RawMaterials is able to offer students a unique opportunity to learn in a dynamic environment, focusing on real-life challenges. EIT RawMaterials is initiated and funded by the EIT (European Institute of Innovation and Technology), a body of the European Union. The EIT Label is a certificate of quality that is awarded only to excellent educational programmes at the Master and Doctoral level. As a student of an EIT RawMaterials Labelled programme, you'll be part of the largest European raw materials partnership – with more than 120 core and associate partners and 180 project partners from over 22 European countries coming from higher education, research institutions and industry. As an EIT Label student, you will have the opportunity to become part of this committed partnership as well as champion and contribute to the EIT RawMaterials objective of finding new, innovative solutions to secure the sustainable supply of raw materials across the value chain – from exploration, mining and extraction, to mineral processing, recycling and developing circular economy strategies.
Read Less
Espoo ,
Stolberg (Rhineland) ,
Delft ,
Bordeaux ,
Darmstadt ,
Grenoble ,
Liège ,
Metz ,
Luleå ,
Freiberg ,
Ghent ,
Alsike ,
Leuven ,
Leoben ,
Trento ,
Milan
+ 15 More
Less