Arab Master in Democracy and Human Rights
Home ›
Master ›
Arab Master in Democracy and Human Rights
Programme Description
Interested in boosting your career in the field of Governance?
The Arab Master is unique one-year cross-regional programme. It is an intensive advanced course on Human Rights and Democracy with a focus on the Middle East and North Africa. The programme spans over two semesters across the Arab World: one semester in Beirut and another in a partner Arab university. The programme has a special focus on the politics within the Arab region and allows direct access to research in Tunisia, Jordan, Palestine, Egypt and Lebanon.
The Arab Master is growing network of academics and practitioners working within the Global Campus on Human Rights and is linked to six other regional masters across the world.
Students will earn a Master degree awarded by Saint Joseph University in cooperation with Birzeit University (Palestine), the International University of Rabat (Morocco), the University of Carthage (Tunisia) and the European Inter-University Centre (Italy).
Why Enrol?
ArMA is a unique learning experience, rich in interdisciplinary content, academic activities and field-related work. It allows you to develop long-term academic and professional relations across the region and beyond.
You acquire knowledge and insights into the region and the master's main thematics.
The programme allows you to develop both research and practical skills. It includes a week-long field trip and offers you the possibility to do an internship in leading national and international organisations across the region.
ArMA attracts students, researchers and experts from the region and beyond, because of its comparative approach and its interdisciplinary character.
Programme
First Semester (Beirut)
The first semester is divided into four thematic sections and a field-trip.
Democracy and Rights
Legacy of Colonialism (2cr)
Arab Political Thought (2cr)
Democracy and Human Rights in MENA (4cr)
Governance, Rule of Law and Constitutional Process
Comparative Constitutional Systems (4cr)
Political Parties and Pressure Groups in MENA (4cr)
Political Transitions to Democracy
Democratisation and Liberalisation (4cr)
Transition Processes in MENA (4cr)
International Relations and the Global System of Human Rights Protection
International Human Rights law and Protection Mechanisms in MENA (3cr)
Vulnerable persons and groups Human Rights (3cr)
Second Semester (Rabat, Ramallah or Tunis)
Students have to conduct research and write a thesis during their second semester. They can also do an internship and follow relevant courses at the university.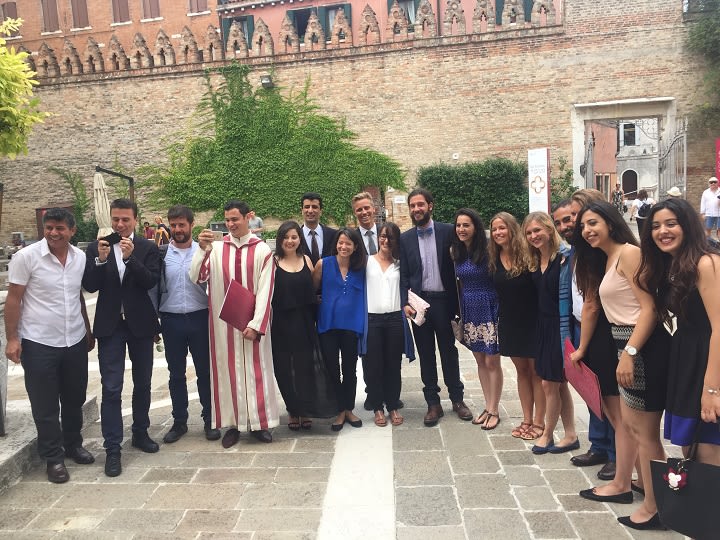 Admission Requirements
Academic requirements
Applicants must have a minimum of 240 ECTS (MA degree, or a BA degree with an additional 60 master-level European credits, or their equivalent). Degrees should be in political science, law, any other social science or specialisation in a relevant discipline.
Applicants completing the degree entry requirements subsequently to the application deadline are requested to provide a current transcript of records. Final admission into the Programme will be conditional upon the receipt of documentation of the completed degree.
Additional studies and experience
Additional studies and practical experience in the area of human rights in inter-governmental, governmental, or non-governmental organisations help consolidate your candidacy.
How to Enrol
In order to apply you need to fill the attached Application Form and Scholarship Form. You will also need to attach to your application:
A transcript of grades from your last diploma
A copy of your diploma
A CV
A copy of your passport
A digital photo
A letter of intent explaining your interest in the programme and your career ambitions
Two letters of recommendation (with at least an academic one)
Email your application and relevant documents to arma@usj.edu.lb.
Last updated Jan 2018
About the School

Saint-Joseph University (USJ) is a private Lebanese university that was established in 1875. The university and its degrees are officially recognized by the Lebanese state, in accordance with the prov ... Read More
Saint-Joseph University (USJ) is a private Lebanese university that was established in 1875. The university and its degrees are officially recognized by the Lebanese state, in accordance with the provisions of the private higher education that governs higher education in Lebanon.
Read Less